Delivery

We can provide the expected delivery time which includes the production and delivery transit times.
According to the delivery location, choose the best shipping method.
We will confirm the delivery time with you after you check out by e-mail.
After we have completed and processed all shipments for the day, we will notify you of the tracking number by e-mail.
Saturday, Sunday and holidays are not counted in the number of shipping days.
Shipping rates and fees vary depending on the delivery address for your order.

■ Packaging
All products adhere to the "flat packaging".
We pack printed products using our own packaging materials in appropriate numbers as we see fit.
Leaflets are banded together in batches of 1,000 sheets and packaging is not included.
If you want to divide up your order into smaller packages, contact us in advance. If this is possible, we will tell you the additional charges.
The actual number of packing sheets is required in accordance with the pounds of paper and processing methods.
We might not be able to meet all of your delivery requests depending on the way your order is packaged. Contact us in advance.
1. Business Cards/Stickers is environmentally friendly carton packaging.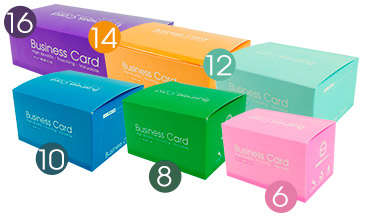 2. Flyers/Envelopes/Folders is a kraft paper box packaging.
Box Size
Pounds
sheets
A4 Box
(high 30cm)
80P
4000
100P
4000
150P
2000
200P
1500
A3 Box
(high 18cm)
80P
2200
100P
1800
150P
1200
200P
1000